Tai Chi for Arthritis and Fall Prevention Programs Expand with Boost from N.C. Center for Health and Wellness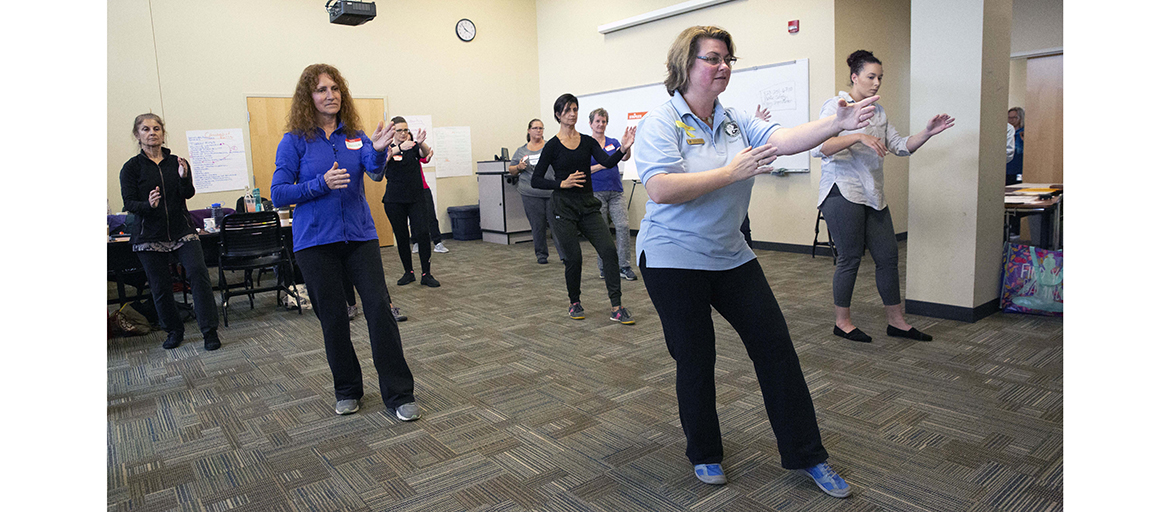 Meghan Bryant led the Tai Chi for Arthritis and Fall Prevention workshop at UNC Asheville. Janice DeMille (dark blue shirt) will teach the program in Marion.
April 23, 2019
Instructors serving 20 Western North Carolina counties learned how to teach basic Tai Chi at UNC Asheville's Sherrill Center this spring – they are preparing to offer Tai Chi programs to older adults as a way to help prevent falls and maintain mobility, especially for those with arthritis. The two-day training was offered by UNC Asheville's N.C. Center for Health and Wellness (NCCHW) on April 5-6, 2019.
"It's a safe way to keep the body moving, have more fluid movement and be more confident," said Cheryl Perry, one of 18 people who received the training. "When you get older, you start to get isolated, you don't move around as much as you used to. This covers all the joints in the body and keeps you moving – it's a wonderful way for people to have more movement in their lives." Perry, a yoga teacher and retired physical therapy assistant, recently relocated to Asheville, plans to teach Tai Chi for Arthritis and Fall Prevention as a volunteer with Land of Sky Regional Council's Area Agency on Aging.
The training, part of NCCHW's Tai Chi for Arthritis and Fall Prevention program, follows the approach developed by Dr. Paul Lam, M.D., using the Tai Chi Sun style, known for its ability to improve relaxation, balance, and for its ease of use. Meghan Bryant, master trainer for the Dr. Lam's Tai Chi for Health Institute, led the two full days of training for instructors across Western North Carolina.
"In Western North Carolina, we have some of the counties with the highest rates of unintentional fall deaths in the state.  With fall injuries, there's often a decline in health after a fall – that's one of the reasons we're trying to increase the availability of these programs across the state and especially here in Western North Carolina," said Ellen Bailey, grant manager for falls prevention with the Healthy Aging NC Initiative of NCCHW.  "Falls are not a natural part of aging – we want to get the word out that people can prevent them and improve overall quality of life – and we want to offer the tools to do that in more communities."
Janice DeMille, who took part in the training workshop, is teaching Tai Chi for Arthritis at the Corpening YMCA in Marion where she lives, and will begin teaching programs starting May 13 at the McDowell Senior Center. "I'm a senior myself," she said. "My goal is to really encourage people to keep moving and get out there. I've found there is a big desire to have Tai Chi for Arthritis – I want to fill that gap."
Serving older adults in rural areas means overcoming physical and social isolation. "There are lots of possibilities for outreach in rural areas and each community is different, in terms of where older adults feel safe taking a program and what transportation is available," said Bailey. "We're partnering with the Area Agencies on Aging, senior centers, and YMCAs across the region. Faith communities are great sites for programs, and in some parts of the state, libraries also offer these programs. Fire and EMS departments are often the ones going out and helping people who have had a fall at home. Land of Sky and the WNC Falls Coalition are working with Madison County EMS as they get ready to have their EMTs trained in A Matter of Balance."
NCCHW is helping to support A Matter of Balance programs and Tai Chi for Arthritis and Fall Prevention in communities all over the state with grant funding from the U.S. Department of Health and Human Services, Administration for Community Living.
"With the support of Ellen Bailey, who joined the NCCHW as the falls prevention grant manager in early 2019, our community partners – area agencies on aging, senior centers, and many others – offer these programs in more and more NC communities," says NCCHW Executive Director, Amy Joy Lanou. "In 2018 alone, almost 1900 people participated in fall prevention programs in more than 120 different sites across the state."
Upcoming Tai Chi for Arthritis and Fall Prevention Programs
Marion – May 13-July 19, 8:30-10:30 a.m.
McDowell Senior Center, 100 Spaulding Rd., Marion
http://healthyagingnc.com/events/marion-tai-chi-for-arthritis-and-falls-prevention/
Upcoming A Matter of Balance Programs
Asheville – April 29-June 24, 2-4 p.m.
Land of Sky Regional Council, 339 New Leicester Hwy., Suite 140
http://healthyagingnc.com/events/asheville-a-matter-of-balance-3/
Asheville – May 2-June 20, 10 a.m.-noon
Groce United Methodist Church, 954 Tunnel Rd.
http://healthyagingnc.com/events/asheville-a-matter-of-balance-4/
Black Mountain – May 2-June 20, 2-4 p.m.
Givens Highland Farms Community Room, 200 Tabernacle Rd.
http://healthyagingnc.com/events/black-mountain-a-matter-of-balance/
To learn more about falls prevention programs coordinated through NCCHW all over North Carolina, and upcoming programs, visit the website healthyagingnc.com. The program listing is updated regularly. Information about NCCHW is available at ncchw.unca.edu.